INGREDIENTS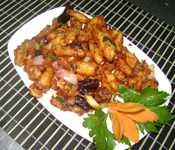 2/3 cup water
2/3 cup white wine vinegar
1 tablespoon fresh-ground black pepper
2 tablespoons garlic salt
2 tablespoons Worcestershire sauce
1 tablespoon hot sauce
3 tablespoons margarine, melted
4 (10 ounce) bone-in chicken breast halves
DIRECTIONS

Place the water, vinegar, pepper, salt, Worcestershire sauce, hot sauce, and melted margarine into a large, resealable plastic bag. Shake to combine ingredients, then add chicken, seal, and shake to coat. Place in refrigerator to marinate at least 4 hours.

Preheat an outdoor grill for medium-high heat, and lightly oil grate. Remove chicken from marinade, and shake off excess. Discard remaining marinade.

Cook on preheated grill until no longer pink in the center; about 10 minutes per side.

Enjoy Your Cooking...