20 Feet High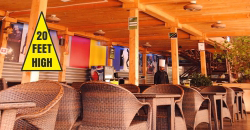 A wooden deck overlooking Church street instantly creates a feeling of fun and relaxation. Its fashioned like a the wooden deck of the ship with entrance through two stair cases.
Brightly covered umbrellas and casual furniture add a nice touch to the al fresco dining experience, a perfect place to chill in the evenings. Italian, spanish, french food , there are also the amazing tandoori kebab for those who dont wanna move away from the Indian flavour. If you enjoy fish, 20 feet high is the place for you because it has baked, fried and grilled fish on offer.
Chicken lovers can feast on the very french preperations of chicken a la bourguignon and chicken a la maringo but the more spirited should try the chicken laced with red wine and the one marinated in tequila.
Address
20 Feet high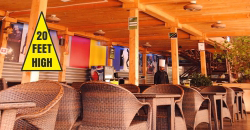 #22 Amoeba
Church street
Bangalore-01
Karnataka
Ph.No - 080-41121937
Contact person - Mr.Chang
Mobile no- 9902861113